Since first bursting onto the NOVA hospitality scene in 2012, A-Town Bar & Grill earned a reputation for being the go-to destination for good food and good times in Arlington, VA. Aside from creating a memorable dining experience, this winning combination also makes our Ballston restaurant and bar the perfect place for private events! Enjoy an easy, worry-free experience at A-Town Bar & Grill-hosts can relax while our experienced hospitality team handles all the details. From the menu to cocktails and the entertainment in between, we go the extra mile to ensure that your party is a success.
A-Town Bar & Grill is truly the one Arlington, VA restaurant that can lend its venue to suit an endless list of private events. The venue's dynamic design allows hosts create a celebratory atmosphere that is cozy and festive, regardless of occasion or guest list size. A-Town boasts 6,000 square feet of dining space and is outfitted with three full-service bars, outdoor patio, state-of-the-art AV equipment, and flatscreen televisions. Best of all: hosts can sit back, relax, and enjoy the party while A-Town's experienced staff handles all of the details-from the food and drink service to the live entertainment, we go the extra mile to ensure your event is a successful one.
Total Sq. Feet Of Event Space
Event Space Perfect For Every Celebration
Parties Personalized Just For You
We believe that the menu should do all the talking at any private event. A-Town's expert culinary staff will work with hosts to craft a customized food and drink list that sets the right mood and pleases the guests' tastebuds! Whether one is interested in a personalized craft cocktail, small bites, or a full-course meal, our Arlington, VA restaurant can accommodate a range of dietary restrictions and demands.
---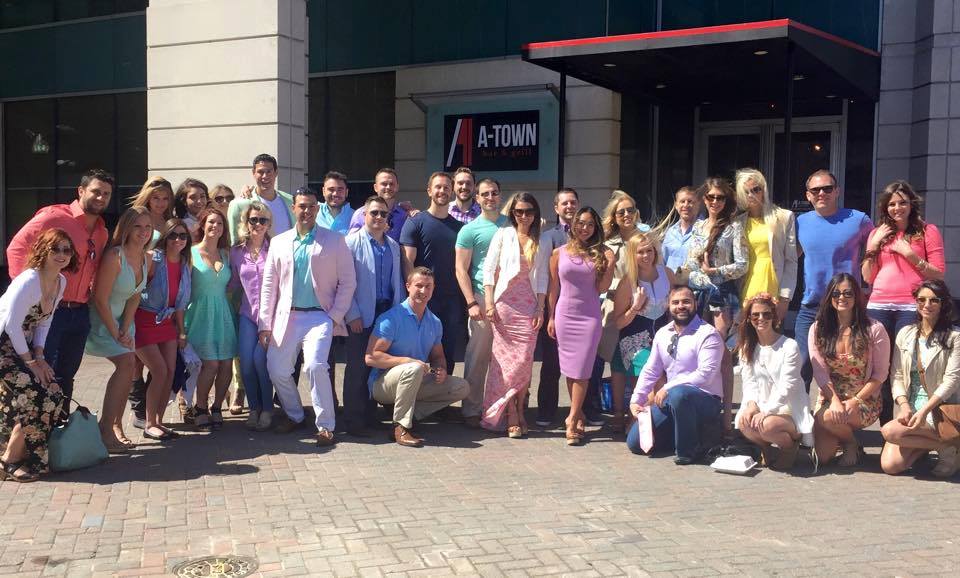 Event Catering
Our American-style menu will set a delicious tone to any private party, whether it's celebrated at our place or yours! A-Town Bar & Grill offers professional catering services, perfect for events of all types & sizes. (We'll even create menus for the pickiest people!)

Event Catering
Get more information about event catering services from our Arlington, VA, restaurant by clicking below.
Get Started
Bottle Service
Take your typical party a notch and add some VIP status to your night out with bottle service at A-Town Bar & Grill. Avoid long bar lines from the comforts of your closed-off table, where the drinks & entertainment come straight to you.
Event Catering
Get more information about bottle service reservations at A-Town Bar & Grill by clicking below.
Reserve Your Table